Post Shoes & Hardware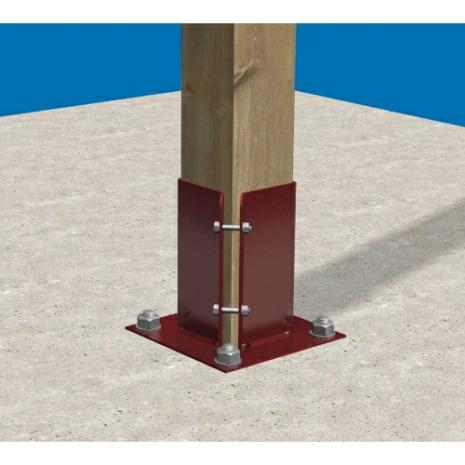 Bolt down fence post shoes are a quick and easy way to erect fencing and garden posts as they require no digging or concreting into place, saving time and money. Designed to be fixed down onto an existing concrete base or wall and are perfect for patio fencing, decking, pergolas or car ports. The bolt secure version features 2x 8mm carriage bolts that tighten and clamp the post firmly into the post holder section to prevent any post movement as well as allowing for over / under sized post tolerance. The bolt system also allows for removal of the post at a later stage if required.
Features
- Prevents against post rot and decay as it will hold the base of the post above ground level
- Red oxide powder coat to blend in with fencing whilst also providing a medium rust protection
- Can be painted over
Nottage Timber Merchants have been established for over 50 years in the timber trade. Not all our products are currently available online, Please contact our Sales Team using our Contact Us Form if you cannot find what you are looking for.
Our delivery network covers most of South Wales including Bridgend, Cardiff, Newport, Neath, Port Talbot, Swansea and West Wales. For more details about our delivery area please see our Delivery Information Page.